Persönliche Box / Personal box
Welcome to ahnen-foto-recherche.de!

You are not logged in.


Wer ist online ? / Who is online ?

And where?
One user is online:

One guest.

Zuletzt online / Last online
Last online
(of 0 users today):
... show all
Statistik / Statistics
Users

Newest user:

Claudia G.

Registered Users:

58

Not yet activated:

2

Blocked:

0

Board

Categories:

8

Boards:

206

Threads overall:

131

Closed threads:

1

Posts overall:

261

Polls:

2
Sprachen-Statistik / Languages statistics
Language
Users

Deutsch

49

English

7
Willkommen / Welcome
Das Team derAhnen-Foto-Rechercheheißt Dich herzlich Willkommen !
Wir beschäftigen uns hier mit der Suche nach Fotos für unsere Ahnenforschung. Gerne darfst Du Dich hier kostenlos registrieren und mitmachen. Bitte sei aber so lieb und lies vorher "Die kleine Regel vor der Registrierung".

Hier wird deutsch und englisch gesprochen.
Berufsgenealogen müssen leider draußen bleiben !
The team of theAhnen-Foto-Recherchewelcomes you cordially !
Here we deal with the search for photos for our genealogical research. You are welcome to register and participate for free. But please be so kind and read "Small rule before registration".

German and English are spoken here.
Unfortunately, professional genealogists have to stay outside !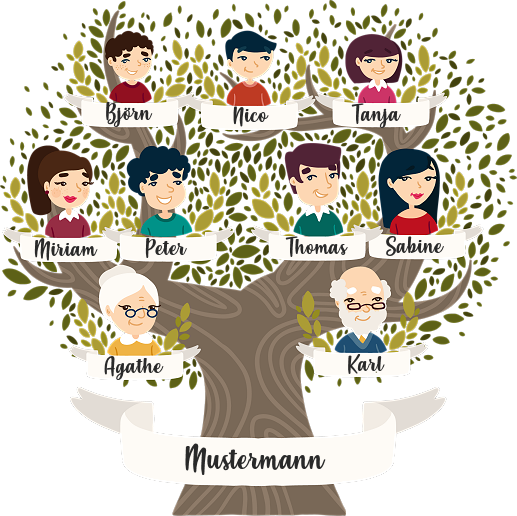 Nach der Registrierung / After registration
Wie geht es nach der Registrierung weiter ?
- Zuerst bekommt Ihr eine Bestätigung per Email. Bitte schaut auch in Euren Spam-Ordner !!! In dieser Bestätigungsmail befindet sich ein Aktivierungs-Link. Dieser muss angeklickt werden. - Danach bitte einloggen ! - Jetzt bitte alle Regeln lesen und bestätigen ! - Nun seid Ihr für alle Foren freigeschaltet. Im Anschluß stellt Ihr Euch bitte im entsprechenden Forum vor, denn wir möchten ja gern wissen, wer Ihr seid.
What happens after registration ?
- First you will receive a confirmation by email. Please have a look into your spam-folder ! !!! This confirmation mail contains an activation link. This has to be clicked. - Please log in afterwards ! - Now please read and confirm all rules ! - After that you are unlocked for all forums. Afterwards please introduce yourself in the corresponding forum, because we would like to know who you are.
Die aktuellsten Themen / The last topics
Thread
Starter
Last Post
Yvonne K.
Replies: 12

17.08.2023

19:33


by vae

Yvonne K.
Replies: 29
Yvonne K.
Replies: 39
Yvonne K.
Replies: 0
Yvonne K.
Replies: 5
Yvonne K.
Replies: 0
... more: all active threads of the last 24 hours
Top Themen der letzten Tage / Top threads of the last days
Thread
Starter
Last post
Wer ist online ? / Who is online ?
Name
Time
Location
Statistik (groß) / Big statistics
Users
Registered Users: 58
Blocked: 0
Not yet activated: 2
Newest user: Claudia G.
Registrations today: 0

Male: 20 (34.4 %)
Female: 32 (55.1 %)
Unknown sex: 6 (10.3 %)

WYSIWYG users: 2 (3.4 %)
Reg. users online: 0
Invisible ("ghosts"):
Guests online: 1
Record: 161 Users
(11.01.2023

04:15

)

Here today: 0 reg. users
Board
Boards: 206
Categories: 8
User groups: 8
Styles: 2
Smilies: 17
Avatars: 4
Threads overall: 131
Closed threads: 1
Important threads: 6
Threads per day: 0.08
Threads per user: 2.26
Treads today: 0
Posts overall: 261
Posts per day: 0.17
Posts per user: 4.50
Posts today: 0

Polls: 2
Foren-Übersicht / Boards overview
Allgemein / General infor...
» Grundgedanken und Ziele d...
» Regeln (bitte zuerst lese...
» Datenschutzerklärung
» Grüße und Anfragen von Gä...
» Impressum und Haftungsaus...

Mitglieder - Ecke / Membe...
» Willkommen
» Vorstellung der Mitgliede...
» Mitglieder - Webseiten
» Welche Nachnamen habt Ihr...
» @ Mitglied
» » @ Yvonne K.
» » @ Ralf Max N.
» » @ Bonita S
» » @ Alf
» » @ Harald T.
» » @ Ulrike A.
» » @ Bernd K.
» Welche Nachschlagewerke h...
» Tolle, weiterführende Gru...
» Mitglieder - Talk
» Umfragen
» Dateien
» Vorschläge, Wünsche und A...
» Werbung für die Ahnen-Fot...
» Fehler im Board

Europa
» Albanien
» Andorra
» Belgien
» Bosnien und Herzegowina
» Bulgarien
» Dänemark
» Deutschland
» Estland
» Finnland
» Frankreich
» Griechenland
» Irland
» Island
» Italien
» Kasachstan
» Kosovo
» Kroatien
» Lettland
» Liechtenstein
» Litauen
» Luxemburg
» Malta
» Moldau
» Monaco
» Montenegro
» Niederlande
» Nordmazedonien
» Norwegen
» Österreich
» Polen
» Portugal
» Rumänien
» Russland
» San Marino
» Schweden
» Schweiz
» Serbien
» Slowakei
» Slowenien
» Spanien
» Tschechien
» Türkei
» Ukraine
» Ungarn
» Vereinigtes Königreich
» Weißrussland

Amerika
» Vereinigte Staaten
» » Alabama (USA)
» » Alaska (USA)
» » Arizona (USA)
» » Arkansas (USA)
» » Colorado (USA)
» » Connecticut (USA)
» » Delaware (USA)
» » Florida (USA)
» » Georgia (USA)
» » Hawaii (USA)
» » Idaho (USA)
» » Illinois (USA)
» » Indiana (USA)
» » Iowa (USA)
» » Kalifornien (USA)
» » Kansas (USA)
» » Kentucky (USA)
» » Louisiana (USA)
» » Maryland (USA)
» » Maine (USA)
» » Massachusetts (USA)
» » Michigan (USA)
» » Minnesota (USA)
» » Mississippi (USA)
» » Missouri (USA)
» » Montana (USA)
» » Nebraska (USA)
» » Nevada (USA)
» » New Hampshire (USA)
» » New Jersey (USA)
» » New Mexico (USA)
» » New York (USA)
» » North Carolina (USA)
» » North Dakota (USA)
» » Ohio (USA)
» » Oklahoma (USA)
» » Oregon (USA)
» » Pennsylvania (USA)
» » Rhode Island (USA)
» » South Carolina (USA)
» » South Dakota (USA)
» » Tennessee (USA)
» » Texas (USA)
» » Utah (USA)
» » Vermont (USA)
» » Virginia (USA)
» » Washington (USA)
» » West Virginia (USA)
» » Wisconsin (USA)
» » Wyoming (USA)
» Antigua und Barbuda
» Argentinien
» Bahamas
» Barbados
» Belize
» Bolivien
» Brasilien
» Chile
» Costa Rica
» Dominica
» Dominikanische Republik
» El Salvador
» Ecuador
» Grenada
» Guatemala
» Guyana
» Haiti
» Honduras
» Jamaika
» Kanada
» Kolumbien
» Kuba
» Mexiko
» Nicaragua
» Panama
» Paraguay
» Peru
» St. Kitts und Nevis
» St. Lucia
» St. Vincent und die Grena...
» Suriname
» Trinidad und Tobago
» Uruguay
» Venezuela

Australien
» Australian Antarctic Terr...
» Australian Capital Territ...
» Weihnachtsinsel
» Kokosinseln
» Jervis Bay Territory
» New South Wales
» Norfolkinsel
» Northern Territory
» Queensland
» South Australia
» Tasmanien
» Victoria
» Western Australia

Fotos in Eurem Bestand / ...
» Europa
» Amerika
» Australien

Zufallsfunde / Chance fin...
» Fotos / Photos
» » Europa
» » Amerika
» » Australien
» Postkarten / postcards
» » Europa
» » Amerika
» » Australien
» Geburtseinträge / birth r...
» » Europa
» » Amerika
» » Australien
» Heiratseinträge / marriag...
» » Europa
» » Amerika
» » Australien
» Sterbeeinträge / death re...
» » Europa
» » Amerika
» » Australien
» Grabsteine / tombstones
» » Europa
» » Amerika
» » Australien
» Sterbeanzeigen in Zeitung...
» » Europa
» » Amerika
» » Australien

Klärungen bezüglich Fotos...
» Europa
» Amerika
» Australien